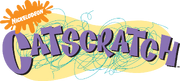 Catscratch is an American animated television series created by Doug TenNapel. It premiered on Nickelodeon on July 9, 2005, and on Nicktoons Network in late 2007. It was also shown on Nickelodeon UK in 2006. It is a light-hearted adaptation of TenNapel's graphic novel, Gear, which is also the name of the cats' monster truck. The show features music composed by longtime TenNapel collaborator, Terry Scott Taylor. Catscratch's first DVD appearance was on Nick Picks which came out February 7, 2006 (though the DVD contained only "Bringin' Down the Mouse").
Catscratch aired as a sneak peek on Nick on CBS in 2005, following the block's last airing of Pelswick.
Description
Edit
A black cat named Mr. Blik (voiced by Wayne Knight), an American Curl named Waffle (voiced by Kevin McDonald), and a Manx named Gordon Quid (voiced by Rob Paulsen) are three brothers who were raised in a mega-mansion by Mrs. Cramdilly, who left the cats at her house and every penny of her fortune when she died. The cats live a life of freedom, adventure, and usually total mayhem. They're now raised by their butler Hovis (voiced by Maurice LaMarche), and they also adore root beer. Whether they're taking on ferocious bears, sea monsters, zombies, giant robots, hobos, rock stars, or even aliens, these wealthy felines just can't keep out of trouble. Their house is normally completely destroyed at the end of episodes, but somehow, everything goes back to normal at the beginning of the next episode.
Voice cast
Edit
Confirmed by an e-mail from Doug TenNapel, there are a few two-page Catscratch comics in the works for Nick Magazine. The first one came out in the December / January 2005 issue. The second came out in the March 2006 issue. The third and the last was in the February 2007 issue.
DVD releases
Edit
There are 2 Catscratch episodes on DVD:
Currently, there are no plans to release Catscratch on DVD or DVD-R through CreateSpace.[citation needed]
External links
Edit
Ad blocker interference detected!
Wikia is a free-to-use site that makes money from advertising. We have a modified experience for viewers using ad blockers

Wikia is not accessible if you've made further modifications. Remove the custom ad blocker rule(s) and the page will load as expected.