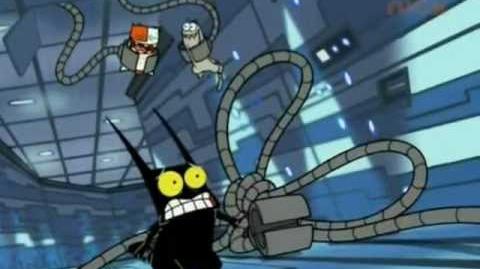 Spindango Fundulation
is an episode of
Catscratch
from season one.
Characters Present
Edit
When Mr. Blik beats the uber-impossible video game Spindango Fundulation, the cats are transported to an alien planet, where Mr. Blik must fight off evil invaders. The only problem is, the conniving kitty rigged the game so he'd win. What will Mr. Blik do now that the stakes are so high?
Mr. Blik, Gordon and Waffle are playing the game Spindango Fundulation. Blik is determined to beat the game, as no one has been able to "spin the Dango". Blik spends days trying to beat the game, and, almost having lost all confidence in himself, devices a scheme to help him win the game using a paper clip. Blik cheats using the clip, and wins the game. However, Blik and the rest of the gang are sucked into the game. They are introduced to Kaftan, the leader of the Slug People, and he and his people celebrate Blik's victory, thus naming him a savior for all Slugs who will protect them from the Dango. Kaftan tells Blik that since the game is actually an imitation of the ship, that he should be able to spin the Dango. Blik tries to escape, and finally admits to his friends that he cheated just to win the game. Later on, Kaftan sends Blik and his friends off to destroy the Dango. Blik manages to dodge the claws that try to grab him, but is captured just as he is about the spin the Dango. Waffle tosses Blik the paper clip he used to win the game, but it falls down the ventilation system. Blik, using his courage and will to help his friends, manages to break loose and spin the Dango. The three cats crash-land on the Slug planet, and Blik is hailed a hero.
Ad blocker interference detected!
Wikia is a free-to-use site that makes money from advertising. We have a modified experience for viewers using ad blockers

Wikia is not accessible if you've made further modifications. Remove the custom ad blocker rule(s) and the page will load as expected.